Leicester City midfielder James Maddison is facing a heartbreak as far as the upcoming Euro 2020 tournament is concerned after he pickeda hip injury in a recent game for his club. James Maddison picked up the hip injury last weekend during the Premier League game between Aston Villa and Leicester City at Villa Park. James Maddison scored the opening goal of the game off an assist from fellow England national team player Harvey Barnes. Harvey Barnes then moved from goal provider to scorer when he scored the second Leicester City goal in as many minutes to give the Foxes a 2-0 lead at the halftime interval. Leicester City went on to concede to the hosts at the start of the second half but they were able to hold on for the remainder of the game to strengthen their place in the top three of the Premier League. Burkina Faso international attacker Bertrand Traore scored for Aston Villa two minutes into the second half. Leicester City had to hold on to that advantage for over 43 minutes to get the result. The win was overshadowed by the hip injury to James Maddison. He is now a big doubt for Euro 2020 in the summer.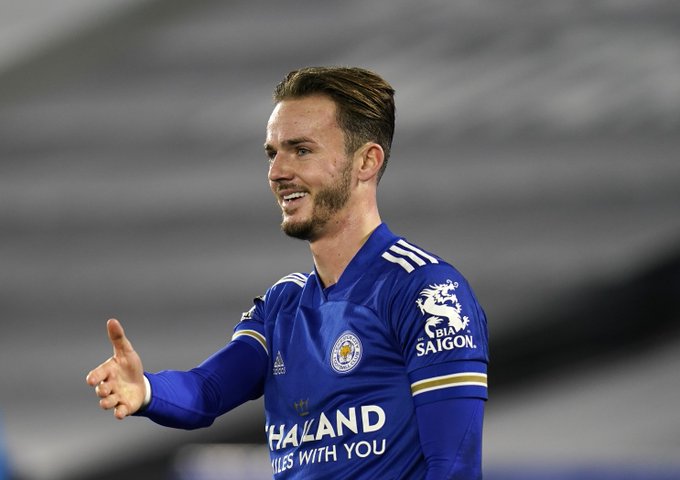 James Maddison has already gone for a scan and it shows that he will need surgery to correct the problem
but the player is currently holding off on the surgery, which will all but rule him out of the England squad for Euro 2020. James Maddison has been one of the form England players since the turn of the year and hip surgery would be a big blow for him in his quest to be part of the England squad for Euro 2020. The ex-Norwich City playmaker is still holding on to avoid surgery. Without him in the team,
Leicester City were eliminated from the Europa League round
of 32 by Slavia Prague of Czech Republic. Leicester City lost 2-0 at home to the Czech team to lose 2-0 on aggregate.